Happy Sunday!  Here are a few of my favorite deals!  Hope everyone is having a great weekend!!
Caged Metal Gym Clock
Polished Chrome Pendant Light Fixture
Oval Divided Metal Tray
French Rusted Feel Hanging Bird Feeder With Bracket
Oval Galvanized Serving Tray Tub
Industrial Wood and Metal Wall Organizer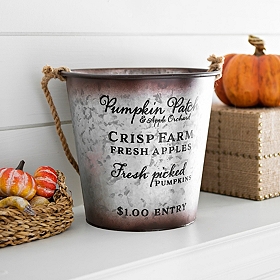 Galvanized Utility Bins, set of 6
Aluminum Laundry Room Sign with Wood Frame
Rustic Turquoise Buckets, Set of 2
Metal Wall Organizer
9 Pane Antique Wood Wall Mirror
Galvanized Broiler Feeder Centerpiece
16×20 Barn Wood Picture Frame
6×18 Christmas Wood Signs
Felt Letter Boards / 12 x 18
Oversized 34″ Custom Names
Simple Rustic Frame Chalkboard
Weighted Blankets
Farmhouse Christmas Collection
On The Farm Collection
Antique Nut Cracker
Distressed Wood Chandelier
Kitchen Sign
Wire Wall Organizer
Galvanized Serving Trays | Set of 2
Hand Crafted Herb Stems, Set of 4
Tin Mail Box
"Happy Fall, Y'all!" Pumpkin Door Decor
Decorative Scale
Round Metal Floating Planter
Accent Pieces We Love Collection
Metal Cubby Boxes with Handles, Set of 3
Large Dough Bowl
Vintage Bird Plaque
Ball Of Twine On Cast Iron Stand With Shears
Bike Wall Decor
Pipe Candle Stick Holder
Hanging Growth Chart
$11.09!!!
Wood and Tin Bless You Tissue Box Cover
Wooden Serving Tray with Metal Handles
Tobacco Basket
Galvanized Caddy
Herb Box Set Of 4
*HUGE* Wall-Mount Distressed Metal Cup Holder
Premium Woven Cardigan
Cold Shoulder Sweater/2 Styles/S-XL
Pre Fall Blowout / 45 Options
Plaid & Dot Detail Top
Long Sleeve Pocket Maxi
MUK LUKS Terry Lined Leggings
Crossed Neck Babydoll Tunic
Perfect Moto Leggings
Plaid Hooded Fall Tunic
Utility Vests / 6 Colors
Believe & Joy Holiday Tees / Youth & Adult
Let's Help Texas!
Direct Affiliate Link:  Tons of Fashion Deals here and here.
Have fun shopping!
-Beth, Home Decor Momma
SaveSaveSaveSaveSaveSaveSaveSaveSaveSaveSaveSaveSaveSaveSaveSaveSaveSaveSaveSave
SaveSave
SaveSaveSaveSaveSaveSaveSaveSaveSaveSaveSaveSaveSaveSaveSaveSaveSaveSaveSaveSave
SaveSave