Good morning!  Here are a few of my favorite deals!  Hope everyone has a great day!!
Rusty Chicken Wire Cloche Domes, Set of 2
Glass Dazey Jar Soap Dispenser With Pump
Treenware Oval Dough Bowl, Set of 2
Little Country Kitchen Collection
Barrel End Table
2 Tier Rolling Cart
35″ HUGE Distressed Union Hotel Clock
*HUGE* Metal Wire Gym Basket, Set Of 3
Wall Mirror
Galvanized Wall Pocket
Large Kitchen Sign
Galvanized Rope Mirror
Vintage Scale Clock
Ladder Planter
Farmhouse Classics – Today's Story
Paper Flower Templates
Stunning 2 Succulent 20 Unique Pack
Autumn Triple Wick Candle
Felt Ball Garland / 16 Choices
Farmhouse Christmas Tree Countdown
Pillow Covers / Fresh Neutrals
Country Christmas 3 Piece Metal Holiday Decorative Jar Set
Metal Drum With Wood Top Storage Stool
Large Cotton Boll Spray, Set of 2
Farmhouse Media Console
100% Authentic 12 Hole Sugar Mold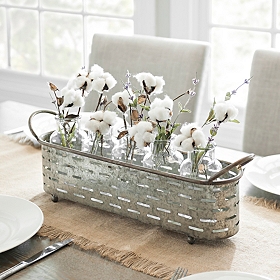 Wood and Metal Industrial Bar Stool
Vintage Letterbox
Perpetual Sliding Desktop Calendar
Office Charm – Today's Story
Triple Shelf Wall Mount
Rustic Square Chandelier Pendant Light
Atelier De Paris Pillow
Farmhouse Nesting Tables
Metal Farmers Market Basket, Set of 2
Metal kitchen table
Hand Crafted Magnolia Wreath
Cotton Stems
8-Piece Bettie Acacia Seating Group
Backless Wood and Metal Industrial Counter Stool
HUGE Embossed Metal Bakery Sign
Distressed Wood Chandelier
Wire Wall Organizer
Decorative Scale
Large Dough Bowl
Ball Of Twine On Cast Iron Stand With Shears
Bike Wall Decor
Engraved Leather Journals
Wooden Serving Tray with Metal Handles
Tobacco Basket
Galvanized Caddy
Herb Box Set Of 4
*HUGE* Wall-Mount Distressed Metal Cup Holder
Marlie Cold Shoulder Sweater / Plus Size
Cute Knot Style Sneakers / 5 Colors
Fall Dolman Cardi
Crossover Sweater
Ultra Soft Sweater
Striped Sleeve Pullover
Wool Blend Ruffled Poncho / 5 Colors
Fall Plaid Tunic
Long Pocket Cardigan / S-XL
Bathing Suit Blowout
Hunter Tunic Sweater / XS-3XL
Monogrammed Rain Boots / 5 Colors
Ruffle Bottom Top
Floral Summer Hoodie / 2 Colors
Baby Christmas Sets / 36 Styles!
Favorite Princess Tees
Let's Help Texas!
Direct Affiliate Link:  Tons of Fashion Deals here and here.
Have fun shopping!
-Beth, Home Decor Momma